Murder Mystery Dinner Theatre Private Parties!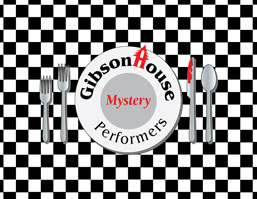 Yes we can! GibsonHouse performs private dinner shows all over Southwestern Florida. Our list of corporate clients is huge, serving mystery dinners to companies such as Apple, Electronic Arts, Chevron, Google, and Cisco! We can perform just about anywhere and many clients use restaurants or wineries for those special company events. We'll customize one of our many murder mystery shows (you get to choose!) to best fit your murder mystery needs, adding in names of maybe the boss or anyone in the company! We'll do the teasing! (in a good-natured way of course).
Murder mysteries include such themes like the Old West, Gangsters in the Roaring 20's, Pirates, Golf, Zodiac Readings, Casablanca, 40s Film-Noir, Weddings, Bingo, Sea Cruises, Space, and more!
Want to have your own private party dinner show for your company? We do that too! (See below.) Also, if you own or manage a restaurant and would like information on hosting a regular murder mystery dinner show, then contact us!
If you'd like to book GibsonHouse East for a mystery dinner show, then visit here for more details and an inquiry form.
About Us
Witness a murder by GibsonHouse East Mystery Performers, the most popular mystery dinner theatre troupe in the Cape Coral and Fort Myers area. You will laugh, witness a crime, and help solve the mystery… while enjoying a gourmet dinner. The fun begins the moment you step into the dining area. You become part of the scene, as colorful GibsonHouse East characters surround your every move.
You are encouraged to play along, as the professional actors are well skilled in using your clue-hunting questions as springboards to present the mystery plot. Be prepared, as a three-course dinner is served between scenes of the mystery, giving you ample opportunity to ask questions and try to solve the crime. Whether you're looking for the perfect murder to celebrate a special birthday or anniversary, a group or corporate event "to die for," or you just want to give the gift of murder, look no further… We're committed to serving up a memorable Murder!
While mingling with guests, characters (actors) engage in heated discussions, attracting attention. During the meal, clues are overheard and observed. Plus, written clues are distributed. Though all mystery plays are fully scripted, ad lib interaction between actors and audience is inevitable… and then a "murder" (maybe two murders!) takes place. The actual foul deed occurs out of sight, but the victim(s) succumbs in full view. By the end of the entrée, the characters accuse each other and guests! One of the characters claims to have solved the mystery, then challenges the guests to do the same.
Each table constitutes a team, and receives a Solution Sheet for completion within a certain time frame. The sheets are collected and scored… and the crime solver unmasks the culprit during the final scene… causing each team to be either despondent or exhilarated! Finally, prizes are given to the winning sleuths. We reward for 1st, 2nd, and 3rd place.
In the end, we promise you that GibsonHouse East is committed to serving up a memorable Murder!
Some of those with sharper memories will know that GibsonHouse (West) first began in 1995 in Santa Rosa. We've been around quite a while now!